I've placed my gown order, what happens next?
All International Sales are final, but our policy allows US buyers five days to decide whether they wish to keep the gown, but first, we need to pack it beautifully! Presentation is very important to us. That's why we take a little longer than most companies. We want all of our buyers to have a pleasant experience opening their package.
Our philosophy is to slow down and enjoy life a little and wrap everything in beautiful packaging. Our goal is to package everything with perfection and place a product in the box that we would want to wear ourselves. Presentation is VERY IMPORTANT to us.
We'd like it if you allow us three to seven days to prepare and package your gown properly. If you are in need of a rush package, just let us know with a quick e-mail and we will forego the presentation.
After the gown is dropped off at the post office, an additional e-mail will be sent with tracking information and a link to the United States Postal Service or UPS website to track and confirm the delivery. This e-mail will include your delivery confirmation number.
The gown will be "SOLD" seven days or one week after delivery confirmation.
Certain items such as Beaded Silk Gowns and Wedding Headpieces are exempt from return and are considered a final sale, so please purchase them with consideration
The truth about "Hurry, I need that today!"
Effective September 2013
We charge a flat fee of $35 for immediate rush orders on gowns when it absolutely has to get there yesterday.
The five day return will only begin AFTER the date of delivery. This is recorded on the USPS website with a delivery confirmation number. Please see our return policy page for more information.
We welcome our International customers. We're sorry but due to US customs duties we cannot accept an International return. All International Sales are final. For more information, please see our INTERNATIONAL Page. Shipping info and customs regulations are listed.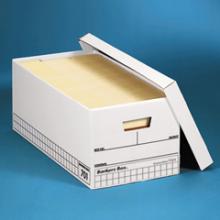 Dimensions:
15 x 10 x 24 for box 702
13 x 10 x 24 for box 701
Boxes are brand new and included with your gown purchase.
When under ten pounds, most of our wedding gowns fit into the 701 bankers box with dimensions of 13 x 10 x 24 inches. When the shipping weight is heavier, gowns with built-in crinolines will be sent in appropriately sized boxes. Some gowns may weigh 13 pounds or more.
We use Fast Fold STOR/FILE Banker's Boxes with a secure Lift-Off Lid. The extra Strength box can be used for gown storage after your ceremony. The lift-off lid stays in place and can be taped to one side for a convenient hinge.
Evening gowns and vintage clothing will be packaged in oversized coat boxes or large priority boxes and should generally weigh under six pounds.
How do I press a gown after shipping?
Please Note: We don't want you to scorch your gown!  Most gowns can be pressed carefully with a home ironing system, if the iron is clean and set on a low heat and the fabric is pressed inside out, but please check with us if you are uncertain.
Most gowns will lose their shipping folds if they are hung out for a few days. They can then be pressed carefully.