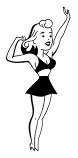 How do I know if a gown will fit me properly?
Whether or not an item of clothing will fit is the most fundamental consideration when buying from any Internet website.
Know your exact measurements.
Wishing, hoping and praying that the gown will fit you is setting yourself up for disappointment. It also causes us needless hours of wasted time when we package a gown for someone who thinks the size of a gown is going to magically change in the mail. Don't do it! (You'll just be disappointed) Don't fool yourself and please be realistic. We'll place the gown on hold for you to figure it out, so don't worry.
You've got to know your exact measurements.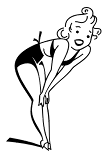 Match the fit for the largest part of your body and have your dress tailored to fit (taken in by a seamstress)
Our gowns are measured at the bust, waist and hip, from shoulder to hem length, accounting for maximum height allowed.
If the gown's style is an Empire, the underbust rather than the waist measurement is most important!
We sometimes give an estimate of the present day dress size for a gown, but it is an estimate.
Remember, there is no set Worldwide standard for SIZE in the clothing industry. Every International and American designer uses their own sizing process. Which means that, while a designer can guarantee the size of a gown, they cannot guarantee if it will fit. Crazy, huh?
Your dress size isn't as important as your actual measurements.
Do you know them?

Most women are any combination of sizes, eg.: 32-25-36, 34-28-39 or 38-31-41. Find out yours by buying a tape measure.
If you cannot find a tape measure, use a long string or thread instead. Place the string around you waist, etc. and then measure against a yardstick or ruler.
Go crazy with that string girl!
It is nearly impossible to purchase any item of vintage clothing and not think that it won't need alterations for "fit."
Match the fit for the largest part of your body and have your dress tailored to fit (taken in by a seamstress)
Vintage gowns were likely altered once already and almost NEVER include a seam allowance, unless they are deadstock and have never been worn.
If the gown is not a deadstock gown and is from an estate, the chances are, if you love a vintage dress, someone else did too. Its probably already been altered!
An experienced bridal seamstress will only be able to take the dress in at the seams to make it smaller.
Keep in mind that taking in any dress is easier than letting it out, but a vintage gown can usually ONLY be taken in.
No matter how much you love a gown that is listed on the website, if the measurements you take with a tape measure are too large to fit the gown,
it's best to move on…   
Please Note:
Most contemporary gowns include an allowance in the seams which an experienced bridal seamstress will be able to let out or take in.