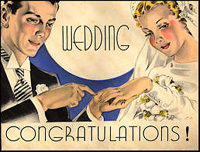 Unlike other businesses that state that all bridal sales are final, we allow you a satisfaction guaranteed 5-day return policy for gowns purchased over $150. This policy is based on our trust and your honor that you will return the gown to us in the same condition that it was received. A 5% percent re-stocking fee is taken to cover packaging and handling, time and effort. Smaller items, such as garters, gloves and headpieces (if under $150) are a final sale. Museum pieces (if over $150) are also final sale. Examples of Museum pieces are Wax Orange Blossoms and antique pieces over 75 years of age.
Orders that are shipped and then cancelled by the customer will also be subject to the 5% restocking fee which will include the invoiced shipping charges. (An example of a 5% Restocking fee: $150 = $7.50) If you are not sure about your purchase, please contact us before placing the order.
Failure to return an item within 7 days from delivery confirmation means it is SOLD.
If we have not heard from you concerning a possibility of a return, we will consider the item SOLD.
Your five-day turnaround begins at delivery confirmation (the date it is received by you) of your package. The delivery confirmation number can be confirmed on the U.S.P.S. website and will be listed in your track and confirm e-mail. One week after the date of delivery confirmation, an item will be marked SOLD.
If you cannot abide by this time period, please do not buy from us.
Please have your returned item postmarked within the five day period.
If the item is not received in the same condition that it was shipped, i.e., underarm damage, stains, rips, tears, soiling or any other sign that the item has been worn other than to try it on, a partial or complete loss of refund may be determined by us after inspection.
Express or special shipping options will not be refunded.
How to Make A Return (click here)
SMOKERS:
Although you may not realize it, the nicotine you ingest as a smoker will leech through your fingertips when you handle silks, voile etc. Many people are also sensitive to the smells left in the clothing of a tobacco smoker.
Smoke damage of a returned item will most definitely cause your refund to be forfeited, so please be aware of this when making your purchase. If you are a smoker, you must take extra precautions when trying on one of our gowns. We apologize for this inconvenience, but we reserve the right to forfeit your refund because of the painstaking efforts we take to archivally clean and restore our silk gowns.